TargetKiller for Firefox
about
TargetKiller is a small extension for the Firefox web browser. The extension removes the target attribute from links on the fly. You can specify which target attributes should get removed. By default TargetKiller is removing all target attributes which equals to _blank or _new. Please see the configuration section for more details.
Reviews and statistics about this extension can be found at the Firefox Add-ons page.
TargetKiller has been tested with Firefox 1.0, 1.5, 2.0, 3.0, 3.5, 3.6, 4.0 and 12.0 under Debian GNU/Linux and Windows Server 2008. The source code is released under the terms of the GNU General Public License version 2.
configuration
The configuration is done through the options dialog.
installation / download
screenshot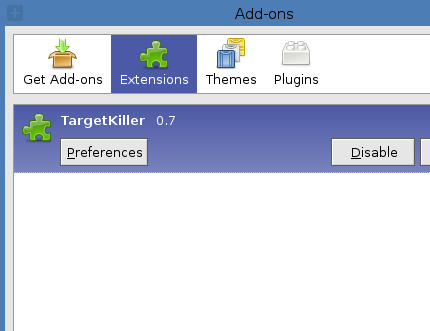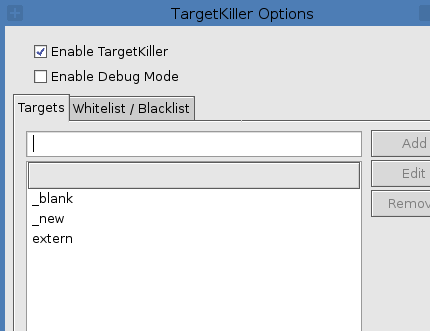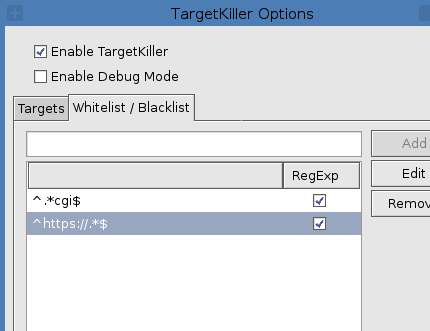 changelog
2011-01-09 TargetKiller v0.8
2010-01-16 TargetKiller v0.7
2009-07-05 TargetKiller v0.6
2008-03-17 TargetKiller v0.5
2006-10-19 TargetKiller v0.4
Fixed an UI bug in the preferences dialog.
Updated for Firefox 2.0.
2005-11-26 TargetKiller v0.3
Added options dialog.
Added whitelist/blacklist support.
Added overwrite mode.
2005-11-08 TargetKiller v0.2
The target attribute of the base element is now also removed. Reported by Allan Rasmussen.
Updated for Firefox 1.5.
2005-04-08 TargetKiller v0.1
© 2005-04-10 Clemens Fuchslocher (Last modified 2012-05-19)